Shock posters tackle road dangers near Llanelli schools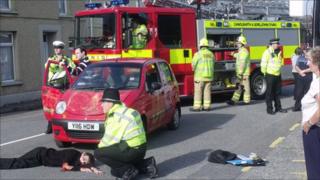 Pupils have posed as road accident victims for a series of hard-hitting posters to highlight dangerous parking and speeding outside schools.
Several scenes also involving the real emergency services were mocked up in Llanelli, Carmarthenshire.
They are being turned into posters and postcards which will be put on the windscreens of badly parked cars.
Organisers said using local pupils stressed that drivers could be risking the lives of children they knew.
The "Don't let it be you" campaign was organised by the Glanymor and Tyisha Communities Action Group with Communities First.
Pupils at Coedcae Comprehensive, Bigyn Primary and Copperworks Infant schools took part.
A make-up artist was on hand to dress the youngsters while the images were taken by Graham Harries of Llanelli Photographic Society.
Police, paramedics and firefighters all took part along with Carmarthenshire council's road safety unit.
Roads were closed to allow the accidents to be staged.
Action group spokeswoman Joanne Yeo said road safety issues around local schools were often brought up at their monthly meetings.
"This project is all about using local faces and local places to highlight important concerns," she added.
The posters will also be distributed to local schools to highlight the dangers to pupils as well.
Insp Eric Evans of Dyfed-Powys Police said the force took road safety issues very seriously.
"I would hope that by highlighting the potential dangers in such a visual and hard-hitting way, that drivers will think more carefully of their speed when they travel past schools, and think twice about where they park," he said.