John Griffiths: 'fitting' for Wales to host Commonwealth Games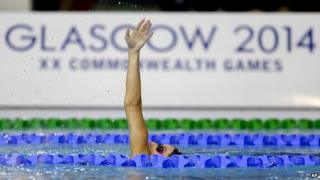 It would be 'entirely fitting' for Wales to host the Commonwealth Games - and a bid may be considered after reviewing Glasgow 2014.
Welsh culture and sports minister John Griffiths made the comments on the eve of the opening ceremony in Scotland.
Mr Griffiths said there is a lot to consider before a decision can be made.
He added: "We should be ambitious, I think Wales is a great sporting nation - we punch well above our weight."
'Ambition'
In 2012, the Welsh Government said it was working with Cardiff council and others on a feasibility study looking at hosting the event in 2026.
In January, the council said no decision will be made until after the Glasgow Games.
Mr Griffiths added: "We've set out our ambition to look at the possibility of bringing the Commonwealth Games to Wales and it would probably be Cardiff and the wider area if it was to happen, but obviously there are lots of issues to be considered.
"We will look very closely at the experience here in Glasgow before we come to any firm decisions."
Wales last hosted the Commonwealth Games in 1958 when they were still called the Empire Games.