Six-week-old baby 'beaten to death' by babysitter, court hears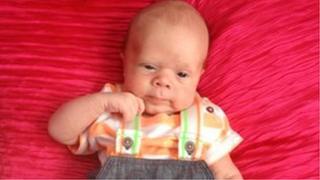 A man accused of murdering a six-week-old boy caused him extensive brain damage after beating him with objects including a shoe and a plastic bottle, a jury heard.
Michael Pearce, 32, of Nelson in Caerphilly county, is charged with the murder and manslaughter of Alfie Sullock.
Alfie, from Fairwater, Cardiff, was "gratuitously injured" while Pearce babysat him, Newport Crown Court heard.
Mr Pearce denies the charges.
He offered to babysit on the night of 16 August so Alfie's mother could go out for the first time since giving birth, and Newport Crown Court heard it was also the first time he had been left alone with Alfie.
Prosecutor Michael Mather-Lees said: "The baby was beaten with a shoe or sandal and the bottom of a plastic bottle. This was not a one-off moment of exasperation which can tragically happen with a screaming child."
Jurors heard this was the first time that Alfie's mother Donna Sullock, 29, had left him with anyone else since he was born.
She became friends with Mr Pearce when she was six months pregnant.
The jury heard that Alfie was perfectly well when she left him with Mr Pearce at his home. He sent two texts to Ms Sullock to reassure her that her son was fine.
Within minutes of sending the last text, he made a 999 call saying the baby was not breathing.
The court heard that when the ambulance arrived the baby was alive but was blue in colour and cold.
A post mortem examination showed Alfie had died of blunt trauma injury and extensive bleeding into the brain.
The jury heard Mr Pearce has not been able to give any explanation how Alfie sustained his injuries and jurors were shown photographs detailing 10 facial injuries to the child, as well as bruising to his abdomen.
Mr Mather-Lees said the "distinct" marks on the defendant's shoes "precisely" matched injuries on Alfie's face.
He added: "This was a baby repeatedly beaten with objects. This is not a case of a baby developing sudden death syndrome. What possible explanation can somebody have to beat a defenceless baby and to cause them really serious harm?
"The child was beaten by Pearce, he inflicted the injuries, he killed the baby."
Doctors found Alfie had extensive brain damage and severe asphyxia and his life support machine was turned off.
Alfie was first taken to the Prince Charles Hospital in Merthyr Tydfil before being transferred to the University Hospital of Wales in Cardiff where he died on 20 August.