Train station toilets too small for 'portly' women, claims MP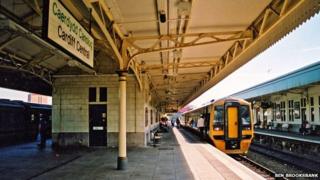 Large or "portly" women might find it difficult to use toilet cubicles at Wales' busiest railway station because they are so small, an MP has claimed.
Llanelli MP Nia Griffith highlighted the toilets at Cardiff Central as well as Port Talbot stations during a debate on cross-border rail services.
The Labour MP has asked transport officials to consider the issue when stations are redesigned.
Arriva Trains Wales, which operates the stations, has been asked to comment.
Ms Griffith said: "On Cardiff station and on Port Talbot station, probably because they're done to a specific design that came out of one book, it is impossible to get into a ladies's toilet cubicle with a very large suitcase.
"In fact, I suggest that some quite large, portly women might find it difficult to get themselves into those cubicles.
"Of course it does become necessary if you have to change trains and also because, for some older passengers in particular, using toilets on trains is quite difficult."
Ms Griffith said she wanted transport minister Patrick McLoughlin to address the issue during future upgrades to avoid problems like at Paddington station, where rail users have to go down a flight of stairs to access toilets.