Probe call over claims minister broke code over Circuit of Wales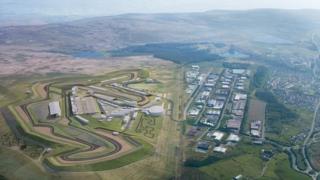 Demands have been made for an investigation into whether Wales' environment minister breached the code of conduct by intervening in a £280m race track project in his constituency.
Conservative AM Antoinette Sandbach has written to the first minister, claiming Alun Davies broke the code.
It comes after it emerged Mr Davies wrote to environment watchdog Natural Resources Wales (NRW).
The Welsh government has confirmed it has received the complaint.
NRW initially opposed the planned Circuit of Wales track near Ebbw Vale, but last August said it had been "reassured" over the environmental impact.
Letters released under the Freedom of Information Act showed Mr Davies wrote to NRW in his capacity as the local assembly member last June.
He said he was "very concerned with the processes at work within NRW in this matter", and asked whether it was acting in line with all its statutory duties.
The letter was obtained by Friends of the Earth campaigner Gareth Clubb, who published the details on his blog.
The ministerial code states "ministers... must do nothing which might be seen as prejudicial to the planning decision process, particularly in advance of the decision being taken".
Track 'question mark'
The Welsh government said it had received the request for an investigation the Conservative AM, and was not making any further comment.
Last Friday, a spokesperson for the government said Mr Davies had a right to get involved as a constituency AM.
"Any questions about the ministerial code must be sent to the first minister, and these will be investigated in the normal way," added the official.
Responding to the publication of Mr Davies' letter, Welsh Liberal Democrat leader Kirsty Williams said: "The minister's heavy-handed approach could potentially put a huge question mark over the future of this project.
"Natural Resources Wales is intended to be entirely independent from the Welsh government. However, the fact that very little material evidence has been provided to explain why NRW changed its mind over the racetrack means people are questioning the agency's independence.
"The fact that the minister responsible for NRW wrote and met with officials expressing his complaints, albeit as an assembly member, would only cast further doubts."
She said the case highlighted problems with the ministerial code, which meant the first minister was "judge, jury and executioner".