Circuit of Wales race track could get government loan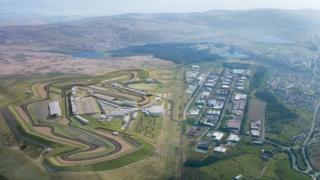 A £280m race track planned for Ebbw Vale could get a Welsh government loan to help the scheme get off the ground.
The Welsh government said it was discussing commercial loan options for the firm behind the Circuit of Wales.
The project could then proceed to a stage where it would attract "significant commercial funding", a government spokesperson said.
Backers say it will create 6,000 jobs and attract 750,000 visitors a year.
The development, proposed by the Heads of the Valleys Development Company, will be built on 335 hectares (830 acres) of land next to the Rassau industrial estate.
The race track was granted planning permission in July 2013, and would host all motor racing events, with the exception of Formula 1.
Some groups campaigned against the development and in March it emerged the developers had asked for £50m funding from the Welsh and UK governments.
Later the Silverstone racetrack bosses asked Prime Minister David Cameron to prevent state aid being used, claiming it would give the Circuit of Wales an "economic and selective advantage" over other circuits.