Hardwick chef 'threw mouse' at Chloe Maisey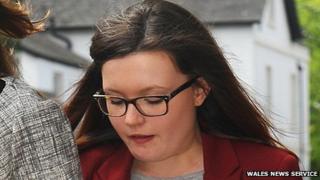 A sous chef threw a sea bass and a mouse at a teenage colleague, an employment tribunal has heard.
Chloe Maisey, 19, of Merthyr Tydfil, has made 21 allegations about working as a pastry chef at the Hardwick, near Abergavenny.
But sous chef Jamie O'Leary told the Cardiff hearing the incident was "blown out of all proportion".
Previously, celebrity chef Stephen Terry denied Ms Maisey had been sexually discriminated against.
'Fish head'
"Have you any idea how much sea bass costs?" Mr O'Leary asked the tribunal.
"If Stephen Terry caught wind of me throwing a sea bass around the kitchen it would be the end of me.
"I was simply showing her how to prepare a fish and turned the fish head towards her in jest.
"These events have been blown out of all proportion as to what happened."
Ms Maisey accused Mr O'Leary of throwing the mouse at her which had come into the restaurant in a box of organic vegetables.
"We all had a look at it before I carried it into the car park and released it into the hedgerow," he said.
"I wouldn't be the sous chef at the Hardwick if I was flinging mice around the kitchen. It's ridiculous."
Mr O'Leary added: "I spend more time with the team than with my wife and child.
"The Hardwick is my second family, there is going to be banter, not on a daily basis, but at the end of the day the restaurant is not what it's being portrayed as."
The tribunal heard there were several female employees Ms Maisey could have talked to about her concerns.
The payroll and human resources manager Charlotte Hilling told the tribunal: "I spoke to Chloe after she joined and told her if there was ever any problem she could come to me."
The tribunal has heard male kitchen workers allegedly watched Ms Maisey as she changed into her chef's whites at the restaurant, which is regularly named the best in Wales.
But Ms Hilling said there was a female employee currently working in the kitchen who used the restaurant's shower cubicle to change.
Previously in the hearing, Ms Maisey said male members of staff had commented on her body and called her fat.
She also accused a male colleague of slapping her on the bottom.
The tribunal continues.