Arrest after 'largest alcohol seizure' in Cardiff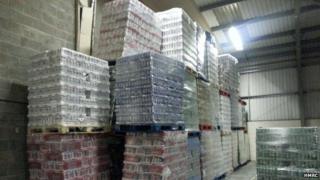 A man has been arrested after more than 37,000 gallons (169,000 litres) of illicit alcohol was seized in what is claimed to be the largest haul of its kind in Wales.
HM Revenue and Customs (HMRC) officers said the drinks were worth about £300,000 in lost duty and taxes.
The wine, beer and spirits were uncovered during a raid on a business unit in Cardiff on Tuesday.
There was enough alcohol to fill eight 40ft containers, said officials.
Colin Spinks, assistant director of criminal investigation at HMRC, said: "This seizure has prevented nearly 170,000 litres of illicit alcohol entering the legitimate market, helping to protect honest businesses whose livelihoods are threatened by this unregulated activity."
A man from Cardiff has been released on bail and investigations are continuing.