Kristy Robinson wins £2,350 damages over wrongful arrest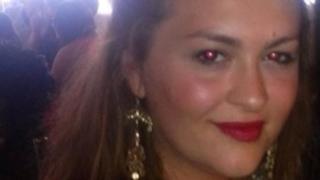 A victim of domestic violence has been awarded £2,350 from Gwent Police after she was arrested when she phoned for help.
Kristy Robinson, 26, dialled 999 at 4am after being punched in the head by her ex-boyfriend and having red wine thrown over her.
But she was taken into custody alongside her attacker because there were no witnesses.
Gwent Police said the officer acted in good faith in a challenging situation.
A civil court hearing in Cardiff heard that Ms Robinson spent six hours in a police cell before being released without charge.
Her former boyfriend was given a 20-week suspended prison sentence for assault.
Ms Robinson said she felt frightened and confused at her arrest, and let down by police when she needed help.
"It was the lowest point of my life. I was utterly devastated by the way I was treated," she said.
"I called the police for help and I was being treated like a criminal.
Challenging situation
"When the police arrived my ex said that I had hit him and the police took his word for it. They said I smelled of alcohol, I was bleeding and they were taking me in.
"I was humiliated and confused," she added.
Ms Robinson, from Newport, won a civil justice case against Gwent Police for false arrest and received £2,350 damages after a four year legal battle.
A spokesman for Gwent Police said the force was disappointed by the result but recognised the court judgment.
"The arresting officer acted in good faith and in accordance with what she considered right and proper in all the circumstances," the spokesman added.
"The officers needed to act quickly in a challenging situation where those present had consumed alcohol, were making counter allegations of assault and where no independent witnesses were present."