M4 relief road 'broadly supported' by Newport council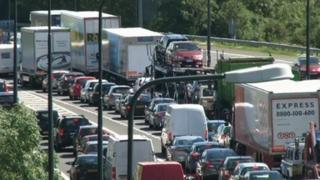 Proposals for a three-lane M4 relief road are favoured by Newport council but there is concern about its environmental impact.
The authority said it "broadly supports" two of three options put forward, which could see a new stretch of motorway built south of the city.
But it is worried about noise and air pollution and the effect on the Gwent Levels landscape.
The Welsh government is considering all responses.
Newport council's response to the Welsh government's plans said an M4 relief road to the south of the city was to be supported in principle because of the benefits of reducing traffic congestion.
The authority said it would support the preferred "black" route along with an alternative "purple" route. Both suggest building a three-lane motorway between junction 23 at Magor and junction 29 at Castleton, but via slightly different routes.
But the council has asked for more detail on possible air and noise pollution, and said it was concerned about how the road would affect wildlife and public rights of way, such as the Wales Coast Path.
A third "red" option for a new dual carriageway would not go far enough to address traffic problems, the council said.
It would also be closer to homes, having a negative impact on public health, the council said.
It also ruled out a fourth "do minimum scenario" option as ineffective.
'Public transport'
Councillor John Richards, Newport's cabinet member for regeneration, said he had some reservations about another busy road being built in the area.
"I have concerns relating to the prospect of another major road by-passing the city which may adversely affect our economic and regeneration aspirations," he said.
"I also have concerns that sustainable public transport is not being considered together with the proposed route for a new motorway.
"However, I note that these concerns have been raised in the proposed response and have, therefore, no objection."
The Welsh government said it was currently considering all responses to the consultation and would respond in due course.
Estimated cost
Plans to ease congestion on the M4 in south Wales were first unveiled by the Welsh government in 2004.
Five years later the then Labour-Plaid coalition in Cardiff Bay shelved the idea when the estimated cost rose to £1bn.
In April, Chancellor George Osborne confirmed his backing for an M4 relief road, saying it was one of the most important road schemes in the UK.
Later in November, UK ministers agreed Welsh ministers could borrow the money needed to fund the scheme.
Gwent Wildlife Trust has campaigned against the proposals, claiming it could destroy habitats and prevent the movement of wildlife on the Gwent Levels.
Friends of the Earth Cymru also oppose the road and has called for the consultation to be cancelled or re-run claiming it was not comprehensive enough.
A consultation ended on 16 December.