Pontypridd armed robbery prompts boxers' sweatshirt plea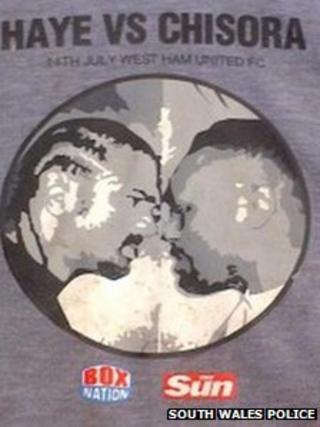 South Wales Police hope a distinctive sweatshirt with an image of two boxers worn by an armed robber will help witnesses come forward.
A shopkeeper lunged at the raider in the incident at Pwllgwaun Road, Pontypridd, forcing him to run off empty handed.
CCTV footage of the incident helped police to spot the image on the sweatshirt worn by the offender.
The attempted robbery involving a firearm happened on 13 December.
"The distinctive image depicts boxer David Haye and Dereck Chisora, opponents back in July 2012," said South Wales Police in a statement.
"Officers believe there won't be many people in the region with the same item of clothing."
They are appealing for anybody living in or around the Pontypridd area, who knows someone who owns such a hooded top or who has noticed one gone missing, to call them.
The incident happened at around 14:00 GMT on Friday 13 December.
South Wales Police said anyone with information can call 101 or Crimestoppers anonymously on 0800 555 111.