Honour call for Cardiff City FC fan who rescued child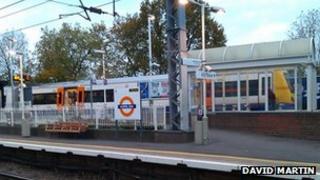 A Cardiff City fan who risked his life to save a toddler from under a train on New Year's Day should be recognised for his bravery, fans say.
John Noctor was on a train to Arsenal's Emirates Stadium when the child fell between the train and platform at Gospel Oak station in north London.
Mr Noctor jumped onto the tracks and lifted the uninjured toddler to safety.
Now fans from both teams think he should be honoured for his actions.
Bus driver Mr Noctor rescued the child, while fans from both teams summoned help and jammed the doors to prevent the train from moving off.
Arsenal fan Roy McLoughlin had been talking to Mr Noctor before the incident, and says his actions were truly heroic.
"We got chatting because John asked us where the toilets were, and we took great pleasure in teasing him that there are no toilets on the North London line services.
"Then we had a bit of banter about Vincent Tan and the rest of it, when John suddenly leapt up and ran to the door.
"Virtually before anyone else knew what had happened even, he was down under the train and lifting up the kid.
"As far as I'm concerned the guy's a proper hero. On that line the electric cables are overhead, but John didn't know that, he acted without stopping to think that he could have ended up dead himself."
'Credit to club'
Mr McLoughlin believes that as well as saving a child's life, Mr Noctor has also done an enormous amount to rehabilitate the image of all football fans.
"The most important thing is that the kid's safe. But as well as that it's just gone to show that, despite the press coverage we get, football fans can laugh and work together, and on occasions do something truly heroic.
"I've written to Cardiff City to tell them just what a special fan they've got, and that they really ought to do something to mark his bravery in some way."
It is a sentiment echoed by Tim Hartley, chairman of Cardiff City Supporters' Trust.
"Football fans have had a very bad press in the past. It is great to see someone like John behave in an unselfish and generous way.
"He is a credit to the club and we are grateful for his brave actions."