Two-week Llandow fire at Vale Business Park out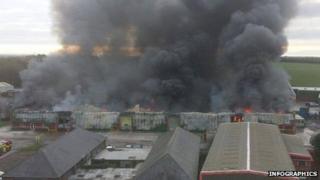 A huge blaze at a Vale of Glamorgan industrial estate is out after burning for over two weeks.
The fire at Siteserv on the Vale Business Park in Llandow, which involved recycled material, had already been contained.
An investigation into the cause and the operator's compliance with the site's environmental permits are taking place.
It was the second fire in less than a month after another Siteserv building nearby was accidentally destroyed.
South Wales Fire and Rescue Service group manager Graeme Smith said the waste had been housed in a former aircraft hangar.
He added that the volume and combustible nature of the waste, and ensuring that all fire water was captured, was part of the challenge.
"I would like to recognise the efforts of my own staff who have worked tirelessly to resolve this challenging situation," Mr Smith said.
At one point nearly 90 firefighters were at the scene when the fire broke out on 26 November.
Officers from Natural Resources Wales will be supporting the South Wales fire service investigation into the blaze.