Facebook message teacher Lisa Manship suspended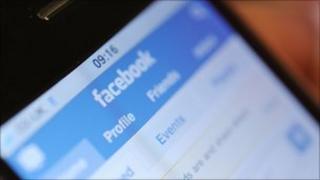 A religious education teacher who sent "inappropriate" messages to a teenage schoolgirl on Facebook has been suspended for 18 months.
Lisa Manship, 33, taught at Ysgol Gyfun Cwm Rhymni, near Caerphilly, and used the social networking site to discuss "humping" a boy with the "vulnerable" 17-year-old pupil.
Ms Manship denied behaving in an inappropriate and unacceptable manner.
But the General Teaching Council for Wales (GTCW) rejected her case.
She was told to complete a course on safeguarding child protection and the acceptable use of social media before she would be allowed to teach again.
The GTCW panel in Cardiff heard the teacher struck up a friendship with the female pupil on Facebook.
After school hours the pair exchanged messages about the schoolboy, described in the hearing as pupil B.
The girl's mother reported the messages to the school and Ms Manship was sacked for gross misconduct.
Previous complaints
Head teacher Owain ap Dafydd told the hearing he was shocked by the nature, content and length of the conversations, which were of a personal nature.
He said: "She sent a message talking about 'humping' with Pupil B. There was the suggestion of sexual activity.
"Whether it was meant as banter or not it is clearly an inappropriate conversation for a teacher to have."
Students had previously made complaints about the way Ms Manship taught her religious education lessons, the panel was told.
These included allegations of swearing, mocking pupils, telling inappropriate jokes, discussing her relationships, and speaking English at the Welsh language school.
One parent complained her 18-year-old son had received unwanted attention from Ms Manship. This is said to have included "tickling", "leaning over him" and offering him a lift home.
GTCW's professional conduct committee heard the teacher befriended students on Facebook and also posted photos of staff members.
Mr ap Dafydd told the hearing he became increasingly worried about Ms Manship's alleged interaction with pupils on Facebook, describing it as "terrible" and "not relevant to anything to do with school".
He added: "It was the general tone of the messages which I thought where inappropriate - it was not conduct befitting of a teacher."
Ms Manship's name will be removed from the teaching register for the period of her suspension.