Dumped trolleys rise with bag charge, Cardiff council claims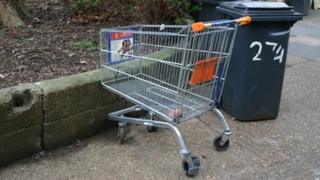 More shopping trolleys have been abandoned in Cardiff since the 5p single-use carrier bag charge was introduced, said the city's council.
The single-use bag charge was introduced two years ago, cutting their use in Wales by 90%.
But Cardiff council said abandoned shopping trolleys were having an "increasing impact" on the environment.
It is to seize abandoned trolleys and sell them on after six weeks, while charging the store for its costs.
The local authority said the new policy aimed to encourage retail outlets to "take greater ownership of their trolleys".
Councillor Ashley Govier, the cabinet member for the environment, said: "Buying a new shopping trolley can cost anything from £100 to £180 so it is in the retailer's interests to protect their assets.
"Businesses deploy different methods to protect their trolleys but it remains the case that several hundred are abandoned across Cardiff each year."
Mr Govier added: "The taking of shop trolleys is theft and the dumping of these trolleys blights areas and can bring a rundown feeling to our communities which in turn attracts further litter and fly-tipping as well as encouraging anti-social behaviour.
"Abandoned shopping trolleys can also harm wildlife and if dumped in a stream or river they can also create a flood hazard."
Wales was the first part of the UK to introduce a mandatory charge for carrier bags in October 2011.
Shops in Wales are expected to pass the proceeds on to good causes.
Welsh government ministers are considering removing the exemption on the heavier so-called "bags-for-life".
Ministers say there is a risk that the heavier bags are now being treated as "throw-away", even though retailers charge between 5p and 10p for them.