Ex-Caldicot teacher Barrie Mugford banned after pupil attack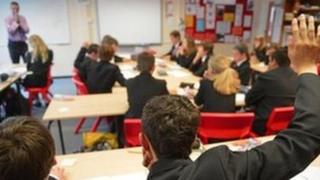 A teacher has been given a nine-month classroom ban after he was sacked for hitting a boy at a school near Newport and threatening a pupil in Bristol.
Barrie Mugford, of Bristol, served at Caldicot Comprehensive for 30 years.
He was sacked for gross misconduct in 2006 after hitting the schoolboy and in 2012 it was alleged he threatened a pupil at Oasis Academy, Brightstowe.
The General Teaching Council for Wales (GTCW) found Mr Mugford guilty of unacceptable professional conduct.
Despite the seriousness of his actions a GTCW panel said as it gave its decision on Tuesday that his behaviour was not "fundamentally incompatible" with being a registered teacher.
It took the view that Mr Mugford used inappropriate physical contact either out of exasperation or as a behaviour management technique.
It means that the geography teacher, who did not attend the two-day professional hearing in Cardiff, could be back in the classroom next year.
To be re-listed on the teaching register he must successfully complete, at his own expense, a programme of training in classroom and behaviour management.
The programme in question must be one which puts the emphasis on learning techniques for managing challenging pupils.
During the hearing Mr Mugford's former head teacher described him as "unpopular" with pupils and as having a diminishing level of patience.
Susan Gwyer-Roberts said: "He had forgotten how to plan lessons appropriately for more challenging pupils and that put a burden on other members of the team."
'Open-handed slap'
The GTCW panel upheld an allegation that Mr Mugford made inappropriate contact with a Caldicot pupil in May 2004 by pushing him in a corridor.
An altercation in a corridor with a schoolgirl in July that year who claimed he had grabbed her jaw and forced it open was also found to be proved.
The girl claimed she was left with a toothache as a result of his action.
The incident for which Mr Mugford was sacked happened on 15 February, 2006 and was also found to be proved by the panel.
The hearing was told he gave a boy an "open-handed slap" on the head during the lesson. Mr Mugford claimed it had been a "playful gesture".
An allegation that he threatened a pupil in April 2012 while working at the Oasis Academy, Brightstowe, Bristol, as a supply teacher was also found to be proved.
Tim Hill, a member of the GTCW panel, said: "The committee finds that the allegations proved against Mr Mugford amount to unacceptable professional conduct because they indicate a disposition to use physical contact inappropriately either in exasperation or as a behaviour management technique."