Flybe air routes including those from Cardiff are under review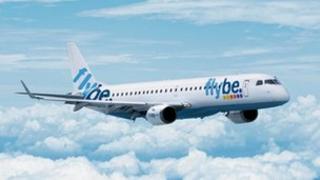 Airline Flybe has said some of its routes could "possibly" be scrapped after it announced plans to cut 500 jobs across the business.
The Exeter-based airline operates a number of services from Cardiff Airport but does not have any staff based there.
The firm said it was reviewing all of its operations as part of its cost-cutting measures despite reporting a return to profit.
Flybe currently employs 2,700 staff.
The pilot's union, Balpa, said it was "shocked" by the decision to cut jobs.
The company's pre-tax profits were £13.8m for the six months to 30 September, compared with a loss of £1.6m a year earlier.
It says its turnaround plan is on track to make £40m of savings this year and £45m in 2014-15.
Flybe chief executive Saad Hammad, who joined the company in August, told the BBC he could not say where the job losses would fall at this stage but that it does not have any staff based in Cardiff.
Mr Hammad said: "We have to review everything but we don't have staff based there (Cardiff) currently so that puts Cardiff in a special situation."
In October Flybe announced it will launch four new direct ski routes from Cardiff Airport to Geneva, Lyon, Chambray and Grenoble.
The routes will fly from December to April and marked the return of ski destinations to Cardiff after an absence of three years.
As part of the cost-cutting programme Mr Hammad said some routes could "possibly" go.
"These are challenging times," he added.