Field of remembrance at Cardiff Castle to see 15,000 crosses laid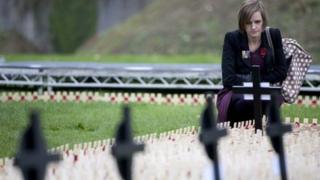 Wales' wartime dead have been remembered in a ceremony at Cardiff Castle where 15,000 wooden crosses were laid to mark their sacrifice.
First Minister Carwyn Jones was among those attending the annual opening of the city's field of remembrance - one of six in the UK.
Each wooden cross carries a poppy and a message to someone who lost his or her life in service of their country.
Mr Jones said Wales owed a debt of gratitude to the armed forces.
Gareth Scourfield was due to lay a wooden cross for his great uncle Percy Dowten, who was killed aged 19 in World War One, and his father Stan, a WW2 veteran who died in 2004, aged 85.
Mr Dowten, who was born in Treherbert in the Rhondda and grew up in Aberavon, joined the 10th Battalion, the East Yorkshire Regiment in February or March 1918.
He was killed in action in Belgium on 29 September, just weeks before the end of the war.
Mr Scourfield's father, from Port Talbot, saw action in France, Italy, Belgium, the Netherlands and Germany while serving with 245 Company Royal Engineers.
"When I'm laying my cross I'll be thinking about my great uncle and my father," said Mr Scourfield, the Royal British Legion's Pontypridd branch secretary.
"I'll also be thinking what my great uncle would have seen and done with his life had he been able to live beyond his 19th birthday.
"This is a time to reflect, a time to remember and appreciate what they and countless others did for their country and for the future generations who have followed them."
'Immense debt'
As part of the ceremony at Cardiff Castle the first minister will plant a remembrance tribute and read the exhortation in Welsh.
"We owe our armed forces and veterans an immense debt of gratitude," said Mr Jones.
"This is an opportunity for us to take time to reflect upon their commitment, service and sacrifice.
"In September I was in Belgium to visit a number of sites where Welsh soldiers battled for their country, and was honoured to be present for the last post at Menin Gate.
"This visit really brought home to me the sacrifice that so many Welsh men and women make for their country, many losing their lives far from their home and families."
The service began at 10:00 GMT at Cardiff Castle, with a two-minute silence at 11:00 GMT.