Advanced armour technology centre opens in Newport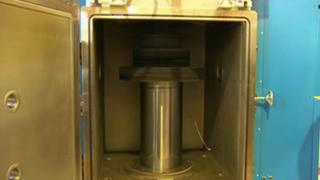 South Wales is becoming the UK centre of advanced armour technology for the military, according to Ministry of Defence (MoD) scientists.
The UK government has joined forces with Kennametal Manufacturing in Newport to build a £2m facility.
The plant will develop full-size ceramic armour plates to be fitted into uniforms and onto vehicles that will help protect troops on the frontline.
It is the largest in Europe, helping to sustain 50 jobs at the Newport site.
And it is the first facility in the UK that is able to manufacture these products with the MoD and Kennametal hoping it will help boost growth if they can export them to other countries.
'Willing to innovate'
Richard Brooks, programme delivery director of the Defence Science & Technology Laboratory (DSTL), which is a wing of the Ministry of Defence, said this was part of a 10-year collaboration with Kennametal.
"This company's got the right potential, they're willing to invest, they're willing to try risky things, they're willing to innovate - they're a small, agile organisation," he said.
"So that's the characteristics we're looking for and that's what this company has given us."
It is one of a few companies in south Wales specialising in similar technology. The DSTL is also working with Tata Steel in Port Talbot to develop advanced metallic armour.
Manufacturing was once a major employer and source of prosperity in Wales but has faced steep decline.
Mike Williams from Kennametal said: "To bring manufacturing industry to Wales is key at the moment. There's so much of it going the other way.
"Hopefully, it builds a good foundation for us to grow even further."