Spitting fine of £80 for people caught in Cardiff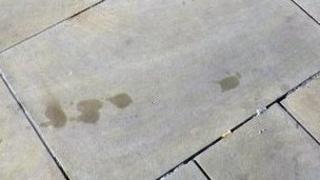 People caught spitting in Cardiff will be fined £80 in a proposed zero-tolerance crackdown.
Cardiff council say they want to treat spitting as a littering offence like dog fouling and dropping chewing gum and cigarette butts.
Under a trial, enforcement officers will have their powers extended to hand out the on-the-spot fines.
Councillor Ashley Govier said the authority wanted to see if residents supported the move.
Mr Govier, who is the council's executive member for the environment, said he had been receiving pressure from members of the public "for some time" to tackle the problem of people spitting in the street.
He said he decided to bring in the trial after a landmark legal ruling last week when Waltham Forest council in London successfully prosecuted two men for spitting.
Mr Govier said until then he had been unsure whether it was possible to extend littering powers to cover spitting.
"Spitting in public is increasingly seen as anti-social and unacceptable behaviour so we have to consider including it in our zero tolerance approach to littering in the city," he said.
"I want people to respect their local environment and help us keep the city as clean as possible so widening our approach to include is definitely appropriate.
"We will trial this approach and closely gauge public opinion but I want to make it clear that the quality of the local environment is a key part of this administration's agenda for the city.
"We live in a beautiful city of international repute and everyone has a responsibility to keep it clean.
"We will not tire of doing everything we can to create as clean an environment as possible for residents and visitors alike."
He told BBC Radio Wales that current litter enforcement officers would be given the power to issue on-the-spot fines to anyone they catch spitting in Cardiff.
But he denied it was a way for the council to make more money, adding that cash from littering fines was ring-fenced and goes back into educating people about it.
Mr Govier said a paper seeking cabinet approval to extend the council's litter enforcement policy to include spitting would be presented next month.
In the Waltham Forest case, two men had refused to pay their fixed penalty notices and challenged the council's policy, but they lost in court and were fined £160 each.