Harrison Marshall, 11, and Ryan Griffiths named as crash victims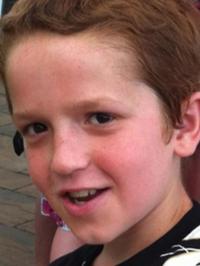 An 11-year-old boy and a man who both died in a collision between two cars have been named by police.
A black Vauxhall Corsa and a blue Subaru collided on the A466 Wye Valley Link Road in Monmouthshire on Friday just after 16:30 BST.
Harrison Marshall, 11, from Chepstow, was travelling in the Corsa while 44-year-old Ryan Griffiths, also from the town, was in the Subaru.
Police are appealing for anyone with information to get in touch.
Two females in the Corsa were taken to hospital with minor injuries.
The crash closed the M48 old Severn crossing westbound for a time and caused tailbacks on the A466 between Newhouse and Chepstow.
Harrison was a pupil at Chepstow school having left Thornwell primary, in Chepstow, this summer.
In a joint statement the schools said: "Harrison was a well-loved boy with a wicked sense of humour.
'Sunny personality'
"He was a friend to everyone, and we all remember the way he cared for all those children in his class at school.
"His happy and sunny personality made an impression on everyone he met. He is a big loss to both schools and to the community."
Chepstow school said Harrison's friends spent a day sharing memories of him and making a memory board.
Monmouthshire council said it was providing counselling and educational psychology services at both schools.
It said: "We will continue to support both schools in the days and weeks to come and would like to pay tribute to the work that the schools themselves have done to deal with this tragic accident."