Tributes to former Bishop of Llandaff, Roy Thomas Davies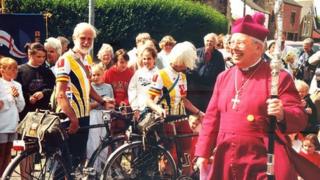 Tributes have been paid to the former Bishop of Llandaff, Roy Thomas Davies, who has died following a short illness, aged 79.
The Archbishop of Wales Dr Barry Morgan described Bishop Davies as a courageous bishop.
"He led a priestly life of prayer, devoted his life to the church and he adored people," said the archbishop.
Bishop Davies was born, ordained and served for most of his life in the Diocese of St Davids in west Wales.
He was appointed as Bishop of Llandaff in 1985 before retiring in 1999.
Dr Morgan said: "As a bishop he held strong convictions but also had the courage to change his mind, most notably on the ordination of women as priests for example which he originally opposed but later supported."
A church scholar from Llangunnor in Carmarthen, he was educated at St David's College, Lampeter, obtaining a degree in 1955 in Welsh, before studying theology at Oxford.
He was ordained deacon in St Davids Cathedral in 1959 and as a priest the following year.
He was vicar of Llanafan before serving in Aberystwyth as student chaplain at the University College of Wales, Aberystwyth.
He later became vicar of St David's, Carmarthen and was appointed Archdeacon of Carmarthen in 1982, and vicar of Llanegwad a year later.
Bishop Davies will receive a private requiem mass at Llangunnor followed by cremation. At his request, no memorial service will be held.