Caerphilly Castle: Traces of blue-green algae found in moat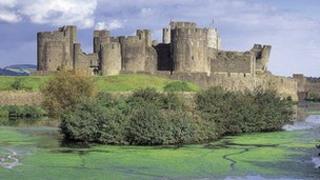 Traces of potentially harmful blue-green algae have been found in Caerphilly Castle's moat.
The county council has warned residents to keep their pets, especially dogs, out of the water.
The council said its advice was not meant to cause "undue concern".
The authority said if pets entered the water owners were advised to wash their animals with clean water and seek advice from a vet.
The toxins in blue-green algae can also be potentially harmful to humans if they come into contact with it causing skin rashes, eye irritation, vomiting, fever, diarrhoea and muscle pain.
According to Natural Resources Wales "blue-green algae naturally occurs in inland waters, estuaries and the sea. Blooms can form when their numbers become excessive."
David Poole, who is responsible for community and leisure services on Caerphilly council's cabinet, said: "This advice certainly isn't intended to cause undue concern and worry but... it is important that residents and visitors are aware that animals should not be allowed to enter the water of the castle moat.
"Regular inspections of the body of water will continue to take place and we will continue to work alongside Natural Resources Wales to address this issue."