Carl Mills trial: Jury in fire deaths case resuming deliberations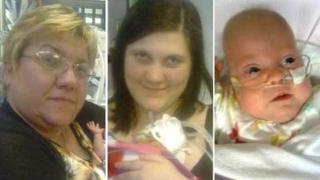 A jury in the case of a father accused of murdering three generations of the same family in a house fire is resuming its deliberations later.
Carl Mills, 28, denies killing partner Kayleigh Buckley, 17, baby daughter Kimberley and her grandmother Kim, 46 at their Cwmbran home last September.
Newport Crown Court heard the fire was started deliberately and Mr Mills had not tried to save the family.
The jury was sent out on Wednesday afternoon after the judge's summing up.
It had been told the fire was started on 18 September, just hours after six-month-old baby Kimberley, who was born prematurely and was blind and deaf, had been brought home from hospital.
Neighbours living on the Coed Eva estate had tried to save the family from the blaze, which the trial heard had broken out in the porch and spread to the staircase trapping the two women and the baby.
Mr Mills denies the murders, claiming he was sitting outside a nearby pub when the fire began, adding that he loved Kayleigh and was planning a future with her and Kimberley.
'Contradictory' evidence
The judge, Mr Justice Wyn Williams, had told the jury they had to decide if Mr Mills started the fire.
If he intended to kill or cause serious harm to anyone in the house, he was guilty of three murders.
But the judge said if the defendant did not intend to kill with the fire, they could consider manslaughter as a verdict.
He reminded the jury there were conflicting versions of the defendant's movements the day before the fire, adding: "There is not any direct evidence from prosecution witnesses of what the defendant was doing in the afternoon and evening."
The defence, he said, suggested the text messages sent by Mr Mills to Kayleigh threatening to burn the house down were "empty threats" fuelled by drink.
The prosecution said Mr Mills carried out those threats because he was jealous and paranoid that his baby daughter was displacing him in Kayleigh's affections.
But the judge added that Mr Mills had given contradictory evidence about his drinking pattern that night.
Witnesses had told how Mr Mills seemed unconcerned about the fire or the people trapped inside the house.
Forensic experts had all agreed the fire began in the porch of the house, possibly in the recycling bin. Two said a discarded hand-rolled cigarette, which both Kayleigh and the defendant smoked, could not have started the fire.
They were also reminded that Mr Mills had admitted lying to the police in interviews.