Julia Gillard, ex-Australian prime minister, tells Huw Edwards of Welsh values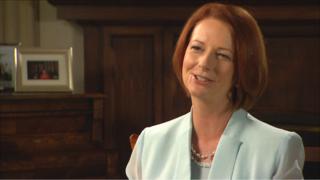 Julia Gillard has spoken of her family's "difficult" migration from south Wales and explained how her Welsh background shaped the political values that made her Australia's first woman prime minister.
Ms Gillard was ousted from power last month after three years, but spoke to BBC Wales presenter Huw Edwards for the programme Wales in Australia while she was still in office.
The Barry-born lawyer-turned-politician left Wales with her parents, John and Moira, and her elder sister, Alison, in 1966 at the age of four, and told Edwards that she had no "original memories" of the country.
But she went on say that her family's Welsh background had inspired her.
Asked why her family made the decision to emigrate, Ms Gillard said: "It was a mix of things. I was born with bronchial pneumonia.
"I was very sick as a child and (my parents) were told by doctors that I would always find it difficult in Welsh winters and perhaps have to miss a lot of school, and that weighed on their mind.
"And Dad thought to himself that there was more economic opportunity in Australia, that it was a big thing to do but ultimately the family would be better off.
"And so all of that came together to reinforce a decision of yes, we're going to go, and we went."
'Couldn't go back'
She said the move halfway around the world was made in an era when international telephone calls were booked with the operator and the price of airline tickets was "astronomically high" compared with people's incomes.
"You couldn't just go back," she said.
Asked how difficult the transition was, Ms Gillard replied: "They found it pretty hard.
"They had a lot of advantages - the language, you know. Our journey is nothing compared with the people who came here not speaking a word of English and had to get to grips with the language as well.
"But even with the benefit of speaking English Mum and Dad do remember it as a difficult time.
"They actually arrived in a drought and so it was economically tough. It was hard for Dad to get a job and they had a sense that Australia was a bit behind Wales then.
"Mum talks of having to let her skirts down because they were too short."
'See you later, mate'
Ms Gillard also explained how her father was caught out early on by an everyday Australian expression.
"Dad tells this story of being on the bus late at night, coming home from work, and the bus driver saying to him: 'See you later, mate'.
"And Dad going home and saying to my mum: 'Gee, the bus driver's coming round' and it taking them a while to work out that this was just a way of saying goodbye, rather than: 'I'll be at your house for a cup of tea fairly soon.' "
Ms Gillard told Edwards that growing up with just her immediate family around her made her want to return to Wales to find out more about her extended family.
"Everybody else had aunties, uncles, grandmothers, you know the whole lot, and we didn't and so I wanted to know where all of our people were.
Enduring influence
"My idea of who we are and what sort of formed us was really built through their eyes and their stories about Wales and I was really keen to get back and see it for myself."
Although she said her commitments had made an official visit difficult in practical terms, Ms Gillard insisted the land of her birth has been an enduring influence on her.
"It's really a very keen shaper of my political values," she said.
"My father is from Cwmgwrach, from one of the coalmining villages in south Wales, and he particularly transmitted values that he learned in his coal mining village, in his family home.
"To him trade unionism was everything. It was mandatory to be part of the union and it was the only way that working people ever got a chance or ever got a fair deal, if they got in to the union. So a real, almost, religion with him and that came through.
"My mother grew up in Barry from a more middle-class family. Her father was an engineer. But she too always had a great sense of social justice and what was right.
"So both of them, their Welsh heritage, their Welsh values and background, shaped me."
Wales in Australia with Huw Edwards can be seen on BBC One Wales on Thursday 18 July at 21:00 BST.