Snake bite costs Labrador Missy a leg in her fight to live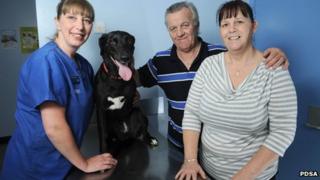 A Labrador cross is fighting her way back to health after vets were forced to amputate a leg when she was bitten by a snake.
Missy's ordeal began with her daily walk in St Mellons, Cardiff, with owner John Staniforth - and ended with emergency surgery to save her life.
Her leg swelled dramatically after what was thought to be a minor scratch.
Vets at the PDSA charity's PetAid hospital realised they faced a battle against time to save the pet.
John's wife, Alison, said she had noticed that Missy was struggling to walk.
"I noticed her limping and when I took her leg in my hand to look closer I noticed a bit of blood, but it didn't look serious, so I booked an appointment with PDSA for the following day," she said.
But by the next morning, Missy's leg was three times the size it should have been, and blood was coming through pores on her skin. There was an open wound where the skin had split.
She was rushed to the PetAid hospital by her worried owners.
"We were really quite shocked by Missy's leg," said vet nurse Karen Jones.
"On examination we noticed two small puncture marks on her foot plus the clinical signs which indicated she may have been bitten by a snake.
"Things like this are very unusual but the signs are very dramatic - a dog can die within a week if they don't get any veterinary care as the liver and kidneys just shut down."
The medical team gave round-the-clock care to Missy for two weeks but the leg refused to heal.
It left her owners with the difficult decision whether to have her leg amputated or not.
"My son didn't want Missy to have her leg amputated as he was worried about how it might change her," said Mrs Staniforth.
"But she was becoming more depressed and hated having her leg dressed each day, and we knew that the infection was spreading through her body which could kill her, so after careful discussion with the vets... we came to the decision that the best course of action for Missy would be to have her leg amputated."
Despite the drastic nature of the treatment, Missy has bounced back.
"When we went to pick Missy up we couldn't believe what we were seeing. She was walking and running on three legs as if nothing had happened, she was back to her old self and we were so relieved that we'd made the right decision," said Mrs Staniforth.