String of tragedies for fire death family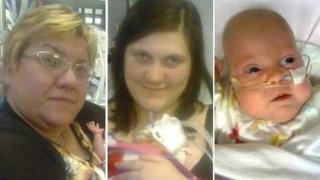 When Kayleigh Buckley's six-month-old daughter Kimberley was finally released from hospital after being born 15 weeks prematurely, Kayleigh's mother Kim Buckley was described as the "happiest grandmother in the world".
But within 12 hours of the homecoming, that happiness had turned to terror and devastation as a fire started by Kayleigh's jealous partner Carl Mills, 29, ripped through the Buckley's home in Cwmbran, south Wales, killing all three generations of the family on 18 September last year.
Kimberley's twin sister Angel had been stillborn when their 17-year-old mother Kayleigh Buckley went into labour at 24 weeks, and Mrs Buckley must have feared her daughter was reliving the tragedies which had blighted her own life.
Twenty years ago, Mrs Buckley had lost two sons, a twin boy Leigh to a lung infection shortly after birth and four years later her two-year-old son David in a carbon monoxide poisoning incident.
When her daughter Kayleigh, then just 15, began a relationship with Mills via Facebook, she was rightly concerned at the "magnetic" hold the drifter from Manchester had over her.
The "abusive, controlling and irrational" Mills moved to Cwmbran to be near Kayleigh, and Mrs Buckley saw a huge change in her daughter as she started cutting school and became isolated from her friends.
Mills had a string of previous convictions including criminal damage and threatening behaviour.
Although afraid of him, Mrs Buckley feared losing another child in a different way and tried to include Mills in family life.
However after Kimberley was born, Mills, a heavy drinker, could not be involved in her care because he could not be trusted, and as time went on he grew increasingly resentful of the attention Kayleigh was starting to pay to their daughter, who was deaf, blind and had breathing problems.
In the weeks before the fire on 18 September 2012, Mills had been staying in a tent outside the house bought for him by Mrs Buckley after she banned him from the house.
Mrs Buckley and Kayleigh had celebrated Kimberley's release from hospital on Monday 17 September by decorating the house with balloons and banners to welcome the baby home.
Screams for help
Mills' behaviour in the weeks leading up to Kimberley's release from hospital had given clear warnings of what he was capable of.
He had repeatedly sent threatening and abusive text messages to Kayleigh explicitly promising to burn the house down and murder the family, and had wrongly accused her of seeing another man.
On the night Kimberley came home, Mills became convinced the non-existent rival was in the house with Kayleigh.
After a night spent drinking and repeatedly texting Kayleigh making vile threats, he set fire to the recycling bin in the porch of the house shortly after 3am.
The flames, fuelled by a "chimney effect" of the porch and stairs, had rapidly spread upstairs and into the attic from where they burned down into the bedroom.
Horrified onlookers saw the women at their windows and heard them screaming for help for up to 10 minutes, with Mrs Buckley shouting that she was on fire.
Two neighbours tried to use a ladder to get into the house to rescue the three inside but the flames were too fierce and they were forced back.
Emergency services arrived but it was too late for the victims, who were all pronounced dead at the scene.
Police arrested Mills, who had been standing in the back garden and behaving strangely, showing no concern for the people in the house, police said.
They later found thousands of the damning texts on his phone in which he had explicitly threatened to burn down the house.
Some examples were: "Your house is going to go up in flames", "I'm going to kill you both. I mean it you don't know me at all", "I'm going to make sure you're a dead girl," and "I will kill your daughter".
In court, Mills claimed he loved Kayleigh and had planned to marry her. He said the texts were just "empty threats".
However the jury disagreed. After a four-week trial at Newport Crown Court, they found him guilty of murdering Kim, Kayleigh and Kimberley Buckley.
The fire has left Shaun Buckley, 23, the sole surviving member of Kim Buckley's family of four children.