Boxing champion Johnny Basham's Lonsdale belt auctioned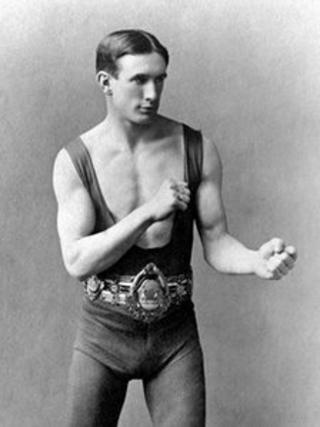 A boxing champion's Lonsdale Belt - the first at his weight to be won outright - has been put up for auction.
Johnny Basham from Newport was British welterweight champion for three years running from 1914 to 1916.
But his story had dark episodes as he faced a manslaughter charge after an opponent died and he endured poverty, forcing his widow to sell the belt.
The belt failed to reach its reserve price of £30,000 at the auction at Bonham's in Chester and remains unsold.
Basham was born in Newport in 1890 and took up boxing in professionally in 1909. A slim-framed man, he was said to have lightning punching power, and became a local and national figure in the boxing world.
He first took the British welterweight title in 1914 a few months after the outbreak of World War I.
He had joined the Army in 1912 and as a Royal Welch Fusilier was stationed at the Barracks in Hightown, Wrexham, with many of his fights taking place in the town or in nearby Liverpool.
Whilst the war interfered with his boxing career, he still managed to defend his title in 1915 and 1916, meaning he was awarded the Lonsdale belt outright.
During the war Basham was a member of an elite corps of boxers known as the Famous Six who worked as army physical training instructors. The group included Cardiff fighter "Peerless" Jim Driscoll, a British and Commonwealth featherweight champion.
His career took a nasty turn when an opponent, Harry Price, died in the ring and he faced manslaughter charges. He received a lot of public support, but still had to stand trial. Fortunately for him, the magistrate ruled that the fight had been conducted along sporting lines and Basham was acquitted.
When the war finished, the boxer resumed his fighting full-time and in 1921 took the British and European middleweight champion titles in a single fight.
Basham was known as a generous man and despite earning a fair amount in his career ended his time in poverty.
During WWII, he could often be found in pubs among American troops displaying his belt in the hope they would buy him drinks.
He remained a popular figure in Newport in his lifetime, and a sportsman's committee organised a boxing tournament with the aim of raising money to provide him with a pension. Sadly, he died just a week before the event in 1947.
'Centre of attention'
His grave remained marked only with a plain wooden cross until 40 years later when Newport and its twin town Heidenheim in Germany held a boxing tournament in the city and raised money for a memorial stone.
Boxing historian Gareth Jones said: "When you think of Welsh boxing from 100 years ago, you think of Jim Driscoll, Freddie Welsh and Jimmy Wilde.
"In the next tier would be Johnny Basham. He won a British and European title at two different weights which I don't think any other Welsh fighter has done.
"It's a pity that he's not up there with the others. He's not a name that that's known among non-boxing aficionados."
Mr Jones added the story of Basham's fall into poverty was common enough among boxers and other sportsmen who came from nothing, spending the money they earned on their friends and spreading the wealth around while they had it.
He added: "When they have been the centre of attention, what do they do when it finishes? A lot of them turn to drink. Johnny Basham seems to have done that."