Gwent Police: Carmel Napier replaced in three months, says PCC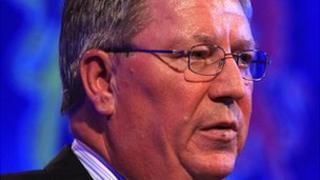 Gwent's police and crime commissioner says it will be three months before he appoints a new chief constable after he told the previous top officer to retire or be removed.
Ian Johnston admits forcing out Carmel Napier before her sudden retirement.
In a public Q&A session attended by only three people in Caerphilly he said he wanted a period of stability.
He also voiced concern about the "far too low" public confidence in Gwent Police and said it must be addressed.
Previously, Mr Johnston has said low public confidence was one of the reasons Mrs Napier had to leave her position".
He said there was a "new mood of co-operation" in the force since her departure.
Mrs Napier announced her retirement with immediate effect on 7 June after a 30-year career in policing. Days later, it emerged that she had been forced out after a series of rows with Mr Johnston.
Mr Johnston - a former chief superintendent in the Gwent force with more than 30 years service - confirmed his ultimatum to Mrs Napier after documents were leaked to the South Wales Argus.
The commissioner criticised Mrs Napier's management style and said the relationship "was never going to work".
'Worst system'
But Mrs Napier fought back with a strongly-worded statement, which urged the government to consider whether crime commissioners' powers were compromising police independence in operational matters.
She called on the UK government to look again at the power of police and crime commissioners which were first elected in Wales last year.
Recently Sir Hugh Orde, president of the Association of Chief Police Officers, said he was seeking a meeting with Home Secretary Theresa May to discuss the "huge" power held by police and crime commissioners.
Sir Hugh said the current arrangement lacked scrutiny and it was "the worst system you can possibly have".
First Minister Carwyn Jones has said Mrs Napier's retirement raised questions, and there has also been criticism by MPs who said Mr Johnston's actions amounted to bullying.
The Home Office said PCCs had given the electorate a "real say" over policing.