'Roadkill map': Cardiff scientists ask public to report animal bodies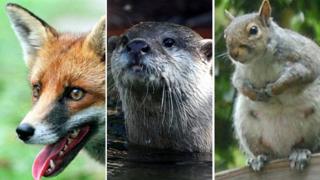 Wildlife lovers are being asked to help cut the amount of roadkill in the UK by reporting any animal body they find.
Scientists at Cardiff University say they want to build up a map of "roadkill hotspots" in the hope it can cut wildlife casualties on the road.
The project, called Operation Splatter, is asking the public to sign up as "splatter spotters" and send their findings via social media.
The team have already studied hundreds of otter carcasses found as roadkill.
Project Splatter is encouraging people to report via Twitter and Facebook what animals they have found dead at the roadside, and where.
Running since January this year, recent updates have included reports and the locations of badger, red deer, roe deer, pheasants, grey squirrel, rabbits and foxes.
A spokesperson said: "Cardiff University's Project Splatter aims to reduce wildlife road casualties in the UK using data supplied by the public through social media."
It is an extension of the Cardiff University Otter Project, run in collaboration with the Natural Environment Research Council (NERC), which examines around 200 otter carcasses a year, most of them roadkill.
The latest findings of the project were also been unveiled at the National Museum of Wales in Cardiff as part of the BBC Summer of Wildlife series of events.
Visitors to the event were told that the research had found a number of disease-causing parasites in bodies of dead otters.
The infection Toxoplasma gondii, which is spread in cat faeces, was identified in 39.5% of the otter carcasses examined.
More work is to be carried out to determine its effect on otters. In humans the parasite can lead to miscarriage and retinal abnormalities.
Almost a fifth of the otters examined, 18.3%, were found to be carrying parasitic flatworms, mostly two species, Pseudamphistomum truncatum and Metorchis albidus.
'Previously unknown'
Affected otters were found to have inflamed or thickened gall bladders.
Any fish eating mammal can be infected by the parasites, including humans.
About a quarter of the otters, 24.3%, carried the tick Ixodes hexagonus.
Up to 122 ticks were found on some animals, with younger otters likely to have more than adults as they are more likely to spend more time in the holt [den].
Dr Elizabeth Chadwick, who leads the team, said: "The project's research on the parasites that infect otters has revealed previously unknown aspects of their distribution and ecology.
"Continued work is necessary to help us to better understand their transmission pathways and the impacts that they have on otters, other wildlife and human health. "