Hirwaun Power £200m Cynon Valley power plant plan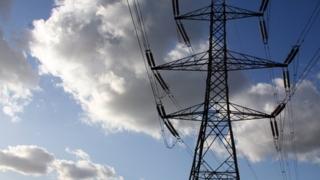 Developers say they hope to build a £200m gas-fired power station in the Cynon Valley.
The 300 megawatt plant would be sited at the Hirwaun industrial estate in Rhondda Cynon Taf, and capable of supplying 400,000 homes.
Hirwaun Power estimates that up to 200 people could be employed in building the station.
It said about 30 full-time jobs would be created when it was up and running, which could be in 2018.
"We are at the beginning of the process. It's a long process that requires a lot of engagement and consultation, both with the local authority and the communities," said company director George Grant.
Under the plans, the power station would use gas to generate electricity, feeding into nearby National Grid network connections.
The company said the plant would be "relatively small" in comparison with other gas-fired stations, with the aim of supplementing wind and solar generation.
"It's not a massive building, in that what we are proposing is quite small relative to what might be in people's minds, associated with a power station," said Mr Grant.
'Very confident'
"It's 300 megawatts. To put that in context, most of the power stations that have been built in recent years are three or four times that size.
"So it's a smaller, flexible unit that is able to respond flexibly to keep the security of supply on the system."
Hirwaun Power said there were two critical steps before the project moved forward.
First, it requires planning consent, which ultimately lies in the hands of the UK government energy secretary.
The company must also win an auction to supply electricity to the national power network.
"Once we have those two steps, then we are very confident that we will have all the necessary support for financing and the construction," added Mr Grant.