Tredegar unoccupied house fire is put out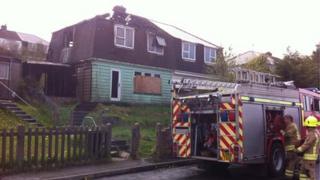 A fire which started in a garden shed and set a house on fire has been put out.
Firefighters were called to the fire in Tredegar, Blaenau Gwent, at 1500 BST. Initially, there were fears that the blaze could have spread.
South Wales Fire Service said the house in Cripps Avenue was unoccupied.
Crews from Rhymney, Blaenavon and Merthyr Tydfil used water jets and breathing apparatus to put out the fire.
There were no reports of injuries.