Llanrumney High School closure ordered in summer 2013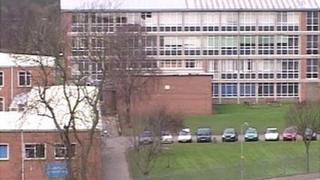 Education Minister Leighton Andrews has ordered Cardiff council to close a failing secondary school a year earlier than it has planned.
Mr Andrews said keeping Llanrumney High School open until until August 2014 is "too drawn out" a closure.
Pupils are due to leave the school, in special measures, in September and move to neighbouring Rumney High School.
Cardiff council said its plans to raise standards with a new secondary school "remain very much on track".
Mr Andrews said the closure would help the council "drive forward" plans for a new school for the east of the city.
He said: "It is my belief that closing Llanrumney earlier will benefit its pupils."
"For the authority, having a single school to improve will place them in a better position to support and drive forward improvements."
Mr Andrews held a four-week consultation on the proposal to shut the school in 2013 rather than 2014.
He added: "While no doubt many of the pupils and staff will be disappointed that I have determined to move ahead with a direction to close the school I believe on the basis of weighing all the available evidence that although this is a difficult decision, this is the right course of action."
'Suitable site'
Llanrumney was placed in special measures by inspectors in October last year.
Cardiff council said it noted Mr Andrews' decision but it had already made plans for replacing Llanrumney High and Rumney High School.
It said: "The formal closure of Llanrumney in August does not change the plans we already had in place to transfer all pupils from Llanrumney High to the Rumney High site from September 2013, with a new school name and significant investment in the school buildings.
"Rumney High School will technically close in August 2014.
"Eastern High will be formally established from September 2014, initially on the Rumney site until a new school building on a suitable site can be built."
The council said it was hoped the brand new school on its permanent site would open in September 2016 with post-16 provision.
"Therefore the council's plans to support rapid improvement in educational standards and life chances as a result, as part of the Education Improvement Partnership, remain very much on track," it added.