Young drivers warned over eyesight by South Wales Police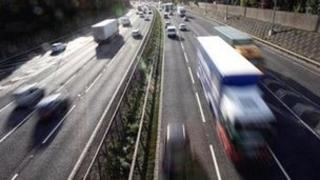 Young motorists are being urged to ensure they can see clearly when driving after a police crackdown found many at the wheel with poor eyesight.
Random checks in south Wales found young drivers who did not realise they needed glasses.
The crackdown, which led to nine motorists with bad eyesight losing their licence, is to be extended to the M4.
A force road safety manager blamed a lack of eye tests in schools.
During a month-long crackdown held earlier this year, police stopped 821 motorists, nine of whom lost their licences because they could not see clearly while driving.
Another 29 people received cautions.
Insp Wayne Tucker, South Wales Police's road safety manager, said while most of those discovered to have bad eyesight were elderly, officers also found many younger people needed sight tests.
"We feel we have made people more aware of their responsibilities in relation to eyesight when driving, especially young people," he said.
"We find these days young people aren't having eyesight tests in schools like they used to and as they get older they're not going to the optician and don't realise the danger they are putting themselves and others in by driving.
"We're not banging people over the head with a big stick about it but asking them to please be responsible.
"We have had incidents where we have had to recommend they get an eye test."
Insp Tucker said one man in particular, who was in his early 30s and drove for a living, had such bad eyesight that police prevented him from driving until he got glasses.
"He went straight away to an optician and got glasses there and then over the counter," he added.
New technology
The South Wales Police crackdown against drivers with poor eyesight was launched at the end of February.
Motorists in Talbot Green, Cardiff, Aberdare and Rhondda were stopped and asked to read the registration plate of a vehicle parked 20m (65ft) away.
Police said that new handheld devices meant they could refer motorists to the DVLA immediately and they could lose their licences within hours.
In the past it could take days for a licence to be revoked, meaning potentially dangerous drivers could still get behind the wheel after police had stopped them.
The changes followed a campaign to highlight the issue after 16-year-old Cassie McCord, from Colchester, Essex, was killed by an 87-year-old driver in 2011.
He had refused to surrender his licence despite failing an on-the-spot eye sight test three days earlier.
Insp Tucker said the crackdown would now be extended along the M4 corridor.