Abergavenny choir Synergy named UK best with beginners' help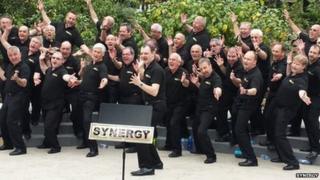 A choir from Monmouthshire featuring a large number of new recruits in the line-up has been named the best UK choir in an international competition.
One third of the 31 members of Synergy from Abergavenny have only been singing with the choir for six months.
They were competing at the Cornwall International Male Voice Choral Festival (CIMVCF) with 15 other choirs.
Euga Male Voice Choir from Finland beat Synergy to first place overall in the competition.
The Welsh group came second but were awarded a cup for best UK choir.
Eleven of the members had auditioned for a place in Synergy after taking a town council-funded course in Abergavenny last year teaching people how to sing in a week.
Rob Maloney, 48, a recruitment consultant from Abergavenny, was one of the new members who took the course as a total beginner.
"The Welsh national anthem went down well with a couple of beers but I never took singing seriously before joining," he said.
"I used to run a disco in Abergavenny with school friends and always loved music. I love soul music.
"Something triggered when I went to the Eisteddfod in Ebbw Vale. When I received a letter through the door saying 'learn to sing in six weeks', I thought I would give it a go.
'Just clicked'
Mr Maloney described taking part in the competition as "amazing".
"I've never experienced anything like it - everybody wanted to work hard for the group.
"On the day it just clicked, everything went to plan - it felt really natural."
Among the choir's members are solicitors, architects, ex-policemen, lecturers, local government officers and teachers, with ages ranging from thirties to seventies.
Choir chairman Andrew Fretter, who ran the course, said the acapella choir differed from the traditional Welsh male choir, partly because there were no accompanying instruments.
"There are closer harmonies and a wider range than a male voice choir," he said.
"The voices pass over each other and often intertwine in a complicated harmony structure.
"Sometimes other parts will lead the melody, not just the lead singers. Sometimes the bass singers will lead the tune."
Directed by Martin Flory and Andrew Walker, Synergy sang four songs in the competition.
They included the traditional male voice choir song The Rhythm of Life and three unaccompanied pieces - the classic Myfanwy, the Queen song Crazy Little Thing Called Love and You Raise Me Up, made famous by the likes of Josh Groban and Westlife.