Llandaff Cathedral dean Janet Henderson resigns after two months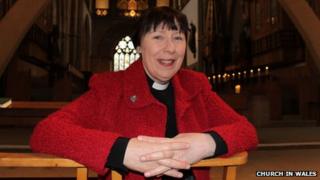 The first female dean of Llandaff Cathedral has resigned just two months after being installed in the post.
The Very Reverend Janet Henderson, 55, became only the second female dean in Wales when she took on the role in March.
The Archbishop of Wales Dr Barry Morgan said he had "with enormous sadness" accepted her resignation with immediate effect.
No explanation for her departure has been given.
The Venerable Peggy Jackson, the Archdeacon of Llandaff, will oversee the cathedral until a new dean is appointed.
The dean is the most senior position in the church under the bishop.
There are only three other female deans running cathedrals in England, and one female dean in the Episcopal Church of Scotland.
In a statement, the Church in Wales said: "The Archbishop of Wales has, with enormous sadness, accepted the resignation with immediate effect of the Very Reverend Janet Henderson as Dean of Llandaff.
"He has, in the meantime, asked the Archdeacon of Llandaff, the Venerable Peggy Jackson, as the senior member of the chapter, to have necessary oversight of the cathedral on his behalf, until a new Dean is appointed."
Former nurse
The former dean had previously served as archdeacon in the Diocese of Ripon and Leeds and as residentiary canon of Ripon Cathedral.
She was appointed to the Llandaff Cathedral role in November and was installed in March.
Speaking at the time, the former nurse, who is originally from Neath, said her new job felt right and it was like she was coming home.
She also pledged her support to ordaining women bishops so the church could "move on".
A former pupil of Howell's School in Llandaff, who grew up in Llandrindod Wells and Aberystwyth, she was ordained more than 20 years ago.
She also earned a first class degree in theology from Durham.
Dr Sue Jones, Dean of Bangor, was the first woman to be appointed as a dean by the Church in Wales. She took up her post in August 2011.