The Savoy, Tonyrefail: Couple's theatre vision for old bingo hall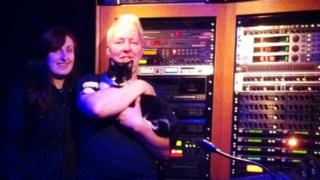 A couple are using their life savings to turn a derelict south Wales valleys cinema and bingo hall into a community theatre.
Daniel Robertson and Hayley Taylor paid £150,000 for The Savoy in Tonyrefail after previously running a theatre in Essex.
Mr Robertson said they had fallen in love with the building and the area.
They are now refurbishing and fitting out the interior and hope to open at the end of July.
Mr Robertson said: "We used to run a theatre in Southend - the Empire - and I did a couple of years work at a university.
"We got a little bored and wanted to be involved with a theatre again. My partner and I decided to have a look at a few buildings and typed in 'old bingo halls' [into an online search engine]."
The Grade II listed Savoy came up and, after also considering Suffolk and Pembrokeshire, they moved to Tonyrefail in October last year.
The building started life as a cinema in 1914 with a capacity of about 500 but became a bingo hall in the 1980s.
It closed about 10 years ago and has remained empty ever since.
"The pair of us came down to look at it," said Mr Robertson. "We loved the building so we made further inquiries and we paid a second visit and spent more time here.
"The second time we came down... we met some of the local people and thought they were really nice. We liked the area, we loved the town and the view was lovely."
Their aim is to turn the Savoy into a community theatre which will stage events such as plays, comedy shows, musicals and concerts.
They want to showcase local talent but will also stage some professional events.
There is a lot of work to be done before the doors open but Mr Robertson said the building itself was in good shape.
"The building was in really good condition. The previous owners had it refurbished just before it closed," he said.
"It was very well looked after. We're doing the whole thing ourselves and there's no structural work being done."
Rhondda Cynon Taf council has granted permission for the work and a flat on the premises. The couple had been living in the foyer with their cat Minnie.
They already have a lot of the equipment required from their previous theatre such as lighting, sound equipment and rigging.
The couple are also being helped by their fathers who were both builders.
Mr Robertson's father Douglas has already played a major role by giving his son over £80,000 to help buy the building.
Hoping to turn the venue into a hub for community activity, Mr Robertson said the budget was tight, but he is convinced it will all be worth it.
"The idea is not to make a lot of money but pump it back into the theatre," he said.
"It's very satisfying and at the end of the day when we have got 100 kids on stage crying on a Saturday night because they don't want it to end, you've done your job.
"It's a really nice feeling."