National mining memorial funds target £40,000 short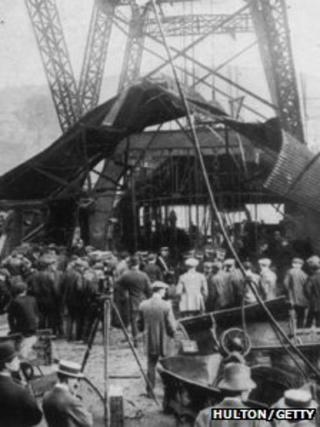 The organisers of a national mining memorial say they are still £40,000 short of their fundraising target.
The memorial will be close to the Universal Colliery in Senghenydd, near Caerphilly, the scene of the UK's worst mining disaster 100 years ago.
It might not be finished in time for the official opening on 14 October, even though £350,000 has been raised.
It will commemorate 150 disasters, including Gleision in the Swansea Valley, where four men died in 2011.
A methane explosion ripped through Universal Colliery in Senghenydd in the Aber valley on 14 October 1913, resulting in the deaths of 439 victims. An earlier explosion in 1901 killed 81 men.
Jack Humphries of Aber Valley Heritage Group said he hoped to raise more money soon.
"At the present time we are approximately £40,000 short," he said. "We have raised approximately £350,000 through grants, through donations and various events that we've put on.
"We have got applications in at the moment for further finance. We are meeting a local supermarket who have indicated further financial support to us and we are meeting them next Monday and I am hoping they will come up with a nice little cheque for us."
Mr Humphries said the memorial would be in two parts.
"There is a part which is for the Senghenydd explosions of 1901 and 1913 and the other part is more of a national pathway of memory along which will be laid pavers commemorating the disasters that occurred in 153 collieries in Wales," he added.
"We'll certainly have it open for 14 October. Whether it will be completed will be a matter of whether we get the finance to complete it, but there will be a service here and a memorial opening on 14 October."
Listed on the memorial's paving stones, which cost £500 each, will be the names of collieries, the dates of mining disasters and the numbers of miners killed.
"At the moment [we have] probably finance for about half of the pavers," Mr Humphries said.
The Welsh government announced an extra £23,000 towards the memorial fund in March.