Cardiff Bay ice arena: Planning permission for first phase of development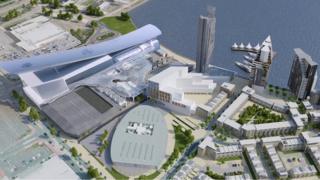 A 3,000-seat ice arena at Cardiff Bay's International Sports Village has been given planning permission by city councillors.
Construction of the £16m centre, which will house two ice rinks, is expected to start in August.
The new home of the Cardiff Devils ice hockey team would open by the end of 2014.
It is the first phase of a £250m scheme, which includes an indoor ski slope and shopping centre.
A 32-storey tower, luxury hotel and flats, and offices are also included in future planned phases.
Work on the first phase will include two ice pads with the main rink that will be used to stage Cardiff Devils matches and a smaller one.
It will also include a temporary car park and a public space.
Jonathan Smith, development director of Helium Miracle, the Greenbank Partnerships subsidiary company behind the scheme, said they hoped the cost of the arena would be recouped through the later commercial phases.
He said they had had support from different parties interested in using the rink, including the Cardiff Devils ice hockey team.
"We hope that this will be the start of a national centre of excellence for winter sports in Cardiff Bay," he said.
The arena could also be used for other ice sports like curling and speed skating, Mr Smith added.
Cardiff council council broke off its deal with Planet Ice, which won the initial tender for the development , in a row over funds.
The sports village currently has a 50m pool, white water facility and temporary ice rink.
The old Wales National Ice Rink in Cardiff city centre, which opened in 1986, closed in 2006 to make way for redevelopment.