Cardiff chooses developers for £20m Llanedeyrn shopping project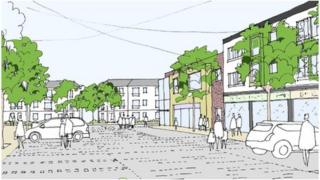 Regeneration of an outdated shopping centre on a Cardiff estate is a step closer after developers were chosen for the £20m project.
Work on the site in Llanedeyrn could start next year if planning consent is granted.
The existing centre will be demolished to be replaced by new shops, homes and community facilities.
The redevelopment by the Maelfa Regeneration Partnership will include a library and community hub.
The project will be led by Bouygues Development who have teamed up with housing associations, construction companies and architects.
Lynda Thorne, Cardiff council cabinet member for communities, housing and social justice, said: "The project will deliver a bright new centre for the community and provide the facilities and services it desperately needs."
The present Maelfa shopping centre opened in 1974 to serve the 1960s Llanedeyrn development of council estates and private housing.