Jarred Evans' severed hand reattached at Morriston Hospital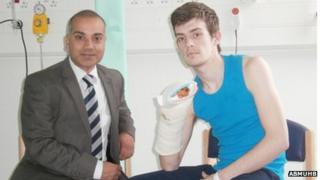 A father-of-two has had his severed hand reattached after it was mangled in machinery at work.
Jarred Evans, 21, from Tonypandy, Rhondda Cynon Taff, damaged veins and arteries to all his fingers and only his thumb was intact.
It took a 13-hour operation at Morriston Hospital in Swansea, to repair the hand.
Mr Evans said: "I have two small children, so I'll still be able be able to pick them up."
The factory worker was treated at the Welsh Centre for Burns and Plastic Surgery.
He said: "As I waited in the anaesthetic room for the operation to start, I was really frightened, I just didn't know if my hand could be saved.
'Extremely rare'
"When I woke up, I was amazed that it had been reattached. It is unbelievable what the staff are able to do here.
"Having my hand back means everything to me. I can't thank the doctors and nurses enough."
Plastic surgeon Richard Karoo, who operated on Mr Evans, said: "Injuries like Jarred's are extremely rare.
"A plastic surgery unit may treat such a trauma case every few years, but they are so uncommon that many doctors or nurses will never see such an injury in their career.
"What makes Jarred's case even more complex is the level at which the limb was severed.
"This meant that once the hand was reattached with metal pins through the bones, blood wouldn't be able to flow back and forth to keep it alive.
"To repair this we used vein grafts from his legs and arms to replace the ones he had lost."
Dr Karoo added: "Reconstruction of the nerves and rejoining of the divided tendons was also undertaken at the same time to help get the feeling and movement back."
Mr Evans said: "I know I have a long road ahead of me, with a lot of rehabilitation over the next year or so, but it absolutely brilliant what the team have been able to do already."