Viridor in Splott: Plant could heat 50,000 Cardiff homes and businesses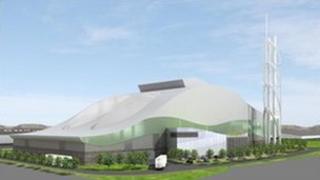 An incinerator being built in Cardiff could provide cheaper heating and hot water to up to 50,000 homes and businesses.
Energy giant E.ON is in talks with Viridor, the company behind the plant, to convert 172,000 tonnes of burnt household rubbish into energy.
It would be the first of its kind in Wales but E.ON stressed talks were in early stages.
However campaigners against the plant claim the plan would cost too much.
The energy-from-waste plant is being built at Trident Park in the city, although the plans to burn household and commercial waste from across south Wales have brought opposition from residents in the Splott area.
Excess heat would be captured and piped underground.
The project would be the first of its kind in Wales, although common in many other parts of Europe.
E.ON has proposed a 10 mile (16km) system, called the Cardiff District Heating Network, that will connect homes, businesses and city landmarks, such as the Millennium Stadium, Cardiff University's campus and Welsh government offices at Cathays.
E.ON says it will generate cheaper and greener heating by replacing conventional gas heating systems.
Andrew Barrow, E.ON's spokesman, said it was too soon into the discussion stage to say how much the plan would cost but it would benefit homes, businesses and new builds.
He said: "Homes would not need an individual gas boiler. It would be easy to turn on and off and homes would be able to control their heating using smart meter technology. You would have full control."
Sheffield, Nottingham and Exeter have been using the district heating system for a number of years.
A 44km (27 miles) network of underground pipes in Sheffield provides hot water for heating to about 140 buildings. E.ON estimates the system has cut carbon emissions by 45% compared to conventional gas heating.
Nottingham's district heating scheme provides heat and power to 4,800 homes and buildings.
In Exeter, E.ON developed a 19mw energy centre which supplies about 3,500 homes and a 1.4m sq ft (130,064.25 sq meters) business park.
Chris Jonas, Viridor's head of strategic development, said the waste plant is being built with the ability to supply a renewable energy district heating system.
He said: "Whilst these are early stages, we are very pleased to be working in partnership with E.ON and Cardiff council to explore this innovative solution and make it a reality for buildings in central Cardiff areas to receive non-fossil fuel, green energy that can be used for heating or cooling."
'Spiralling energy prices'
He said the plan could generate enough energy to power the equivalent of up to 50,000 homes, as well heat and high grade steam to support a district heating network and add an additional 20mw to the plant's energy output.
Councillor Ashley Govier, cabinet member for environment at Cardiff council, said he was keen for the project to benefit Splott residents by connecting their homes to the network.
He said: "With spiralling energy prices and fuel poverty high on the agenda, establishing a significant heat network in Cardiff has the opportunity to not only embed the latest infrastructure to boost the economy within the city but also assist some of our most disadvantaged communities struggling with heat poverty."
However, Dave Prosser from the campaign group Cardiff Against the Incinerator said: "This is something that will need to be explored but it's going to cost so much money it might never get off the ground - we're talking serious money.
"They might think it's possible at the moment but it's just promoting Viridor, but we will have to see."
But Mr Barrow said: "It's definitely possible and, at this moment in time, we're looking at it realistically."