Asbestos: Cwmcarn school repairs could cost up to £1.5m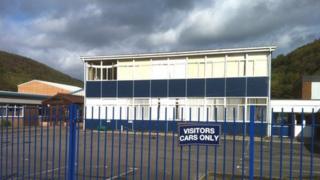 An appeal has been made for emergency funding to help pay for up to £1.5m in works to remove asbestos from a school which was forced to close.
Cwmcarn High School, in Caerphilly county, shut in October after a report said its 900 pupils were at risk.
Now, Caerphilly council has asked the Welsh government to step in and help pay for the work to be carried out.
Governors and the head teacher say they want the site reopened at the "earliest opportunity".
Last month hundreds of people marched through Cwmcarn calling for the school to reopen.
Students are currently being educated 12 miles (19km) away at Coleg Gwent's Ebbw Vale campus.
Rhiannon Passmore, the council's cabinet member for education, said she was writing to the education minister for appropriate funds to help resolve the issue "as a matter of urgency".
She said a "catalogue of asbestos removal and remediation works" totalled more than £1m, while other structural improvements could raise the cost to around £1.5m.
"The council and the whole school community are united in our desire to agree a way forward in the best interests of all concerned," she said.
"We took a very difficult decision to temporarily close the school back in October 2012, but the scale and cost of the asbestos works needed to make the school safe vindicates our decision to protect the health and wellbeing of the pupils and staff."
'Take a decision'
The structural report by Santia Asbestos Management Limited in October said the asbestos posed a potential health risk, and the union Unison said demolition was the safest option for staff and pupils.
However, other reports since have said the level of airborne fibres was much lower than previously thought.
The Health and Safety Executive said the site was essentially free of asbestos contamination after a second round of tests, which some campaigners say should be enough to reopen the school, which also commissioned its own report.
In a statement issued via the school website, the governors and head teacher said: "Our view is that the council now needs to take a decision at the earliest opportunity to return the school to the Cwmcarn site and fund the remediation works required.
"We urge the council to open dialogue with the school governors to facilitate a return to the site at the earliest opportunity."
A spokesperson for the Welsh government said: "Funding the removal of asbestos is a matter for the local authority, not the Welsh government."