Newport Transport depot fire: James Proctor sentenced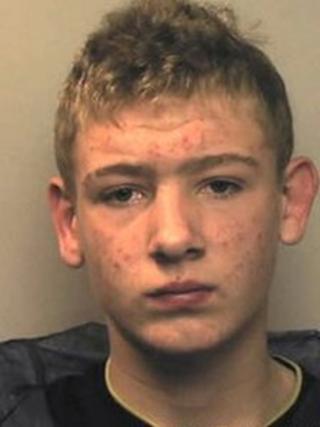 A 15-year-old arsonist who got into a transport depot and torched three buses and a lorry has been sentenced to four years youth detention.
James Proctor, who also set fire to a taxi in a street, caused the £700,000 blaze for a "thrill" on his 15th birthday, Cardiff Crown Court heard.
He fled from the Newport Transport depot but was seen by a police officer.
Court restrictions were lifted so that Proctor, of South Gloucestershire, could be named despite his age.
He admitted two counts of arson and being reckless in endangering lives.
He had "fantasies" of seeing vehicles on fire, the court heard, and used a cigarette lighter to torch a taxi in the early hours of 3 December.
Proctor then got into the Newport Transport depot in the Maindee area and used paper dowsed with fuel to set fire to three commuter buses and a lorry.
A block of flats near the bus depot had to be evacuated because of the blaze.
Prosecutor John Probert said: "A Peugeot Expert taxi worth £8,000 was set on fire before he went to the bus depot at around 3am. Proctor destroyed three buses and a lorry worth a total of £503,000.
"There was damage to a building at the depot and estimates put the total damage at around £700,000."
'The thrill of it'
The court heard that Proctor had blamed a former school friend for starting the fire but police inquiries showed the boy was "tucked up in bed in Bristol". CCTV footage showed Proctor at the depot.
The court heard that Proctor had been on medication for attention deficit hyperactivity disorder since the age of five.
Stephen Thomas, defending, said: "He is a significantly troubled young man and had been consuming alcohol and smoking cannabis. "
"He thinks about what he did every day and he won't be drinking any more."
Judge Neil Bidder QC said: "You have admitted you have fantasies about fire and you have lit fires in the past.
"You committed this offence for the thrill of it."