Kings Monkton School in Cardiff to have new owners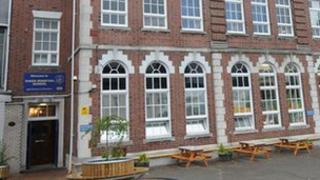 A school facing closure due to heavy debts is being bought by a group specialising in independent schools.
The head of Kings Monkton in Cardiff resigned in January citing uncertainty over its future amid debts of £350,000.
But it was revealed at a meeting on Wednesday that new owners were prepared to take over the school.
Kings Monkton, which can trace its history back to the 1870s, charges £2,800 a term but was losing about £250,000 a year.
Four years ago the CfBT Education Trust invested £750,000 in the school, but had said it could not service the debt beyond October.
Investment
The charity said local businessman Andrew McCarthy's company Heathfield Independent Schools intends to take over running the school.
Jonathan Greenwood, chair of Kings Monkton Trustees, said the aim had always been to "secure a sustainable future" for the school and to not let down staff, students and parents.
"I am delighted that Heathfield Independent Schools and Andrew McCarthy intend to take over the school and are committed to providing first-class, value-for-money independent education," he added.
Mr McCarthy, whose company runs a number of independent special needs schools in Wales, said: "Our commitment is for the long term but in the short term it will be business as usual. Our pupils will still receive a quality education, fees will not be increased and we will continue to operate as usual.
"We do plan to make some changes to the school. We want to improve the environment and facilities here, we want to develop a programme of extracurricular activities and we need to invest heavily in marketing the school to attract new pupils.
"The school does have some obvious failings and we will be reviewing all aspects of the business over the course of the next three months.
"During this process, we will keep open lines of communication with all parties and any changes that have to be made will be done so with the future sustainability of the school in mind and the best interests of our staff and pupils."
The company will enter a period of due diligence to carry out financial and other checks over the next three weeks before the agreement becomes concrete.
'Track record'
Maria Morgan, parent of a child at the school, told BBC Radio Wales the purchase was "great news, excellent news".
She said parents at the school had formed a group to try and save it, and would have been prepared to try and raise money to buy it.
She added: "Really what we wanted was an experienced company to come in and take over the school.
"Andrew McCarthy and his colleagues are Welsh-based, they're Cardiff-based as well and they know the Cardiff demographic.
"What's exciting about them, they've had a track record in education and also they have resources."
In January, the school's head, Simon Antwis, resigned amid uncertainty over the school's future.