Maesteg murder: Kyle Harris may have forced home entry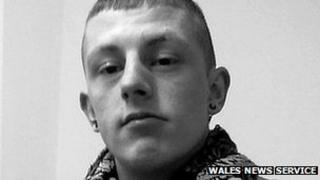 A teenager stabbed at the home of a man accused of murder has told a court he and his friend may have tried to force their way into his house.
But Kyle Harris, 18, says his memory is a blur of the night he was injured and his friend Thomas Sutton, 20, died when they were stabbed in Maesteg.
At Cardiff Crown Court Stuart Worvell, 22, denies murder and attempted murder, claiming self defence.
The court has heard the two mistakenly thought a party was going on.
Mr Worvell claims two men tried to enter his home and attack him with pieces of wood while he was trying to have a bath.
Mr Harris told the jury his memory of the night was "all a blur" and that he could not remember several moments during the course of events that evening.
Mr Harris told the jury that they had stopped at the house to ask for a cigarette.
He said the pair did not know the occupant but had been told by friends that he was "all right" and that they thought they would be welcome at the house.
The jury heard that there was a conversation between Mr Sutton and the defendant through a window and that shouting began. Mr Harris said he did know what was being said.
He also said he could not remember if anything was thrown from the upstairs window and that he could not remember how the front door of the house was opened.
Punctured lung
Under questioning from Greg Taylor QC, prosecuting, Mr Harris told the jury that neither he nor Mr Sutton were carrying any weapons.
Mr Harris said his friend was half in and half out of the house when he was stabbed by Mr Worvell. He described seeing the knife for the first time in Mr Worvell's hands.
He said: "It was a kitchen knife - quite big. He swung it into him. I can't really remember. Thomas was hurt. He was screaming. He kept swinging the knife at him."
Mr Harris told the jury he tried to pull Mr Sutton out from the house and received three serious stab wounds himself, one of which punctured his lung. He remained in hospital for 10 days.
Under cross-examination from Mr Worvell's defence barrister, Richard Smith QC, Mr Harris was accused of not telling the truth about what he could and could not remember in an attempt to make things sound better for himself and the memory of his friend.
'Night's all a blur'
Mr Harris accepted that it was possible weightlifting weights were thrown from an upstairs window which made him and Mr Sutton so angry that they tried to gain entry to the house.
Mr Smith asked him: "You are prepared to accept that the weights came down which made you so angry that you and your friend smashed through the door, and if you did that you would attack the person on the other side?"
Mr Harris replied: "Yes."
Mr Smith asked: "And that those pieces of wood were used by you and your friend as you went into the house?"
Mr Harris replied: "Don't know."
Mr Harris told the jury: "That night's all a blur."