Dean Janet Henderson makes Llandaff Cathedral history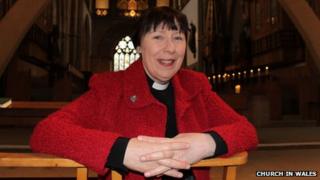 History has been made at Llandaff Cathedral with the installation of its first female dean.
The Very Reverend Janet Henderson, 55, originally from Neath, is also just the second female dean in Wales.
Dean Henderson said her appointment felt right and like she was coming home.
She also pledged her support to ordaining women bishops later this year so the church could "move on".
The dean is the most senior position in the church under the bishop.
There are only three other female deans running cathedrals in England.
Her appointment comes as the former dean, the Very Reverend John Lewis, retired in July after 12 years' service.
Dean Henderson, a former pupil of Howell's School in Llandaff, said: "It's very exciting. It felt like coming home because I was in school in Llandaff and I would come and worship here at the cathedral every Sunday."
She grew up in Llandrindod Wells and Aberystwyth and worked as a nurse before being ordained.
"I was genuinely shocked to have been nominated, it was a surprise," she said.
"I was not particularly seeking out the position but when I came for the interview it felt right and very exciting."
Dean Henderson served as archdeacon in the Diocese of Ripon and Leeds and as residentiary canon of Ripon Cathedral before going to Cardiff.
She gave up nursing to be ordained more than 20 years ago and will be installed on Saturday.
She earned a first class degree in theology from Durham and was ordained in the Diocese of Ely in 1988 and has served much of her ministry in Nottingham.
'Right person'
Archbishop of Wales Dr Barry Morgan admitted it was to his "shame" he did not know of Dean Henderson beforehand.
"I can appoint who I want as dean but this time I decided to invite nominations and her name was put forward," he explained.
Dr Morgan said Dean Henderson was the "right appointment at the right time" for the job.
He said: "She seems to be sensitive to the needs of the cathedral and seemed to be an experienced person."
The archbishop said he did not set out to appoint a woman to the role.
But he added: "I think women bring a great ability to network, to empathise with people, to get alongside people and to multi-task."
Dr Sue Jones, Dean of Bangor, was the first woman to be appointed as a dean by the Church in Wales. She took up her post in August 2011.
Dr Jones was one of the first women to be ordained as a priest, taking her vows in 1997.
A special installation service for Dean Henderson was held at the cathedral at 14:00 GMT on Saturday.