Early closure considered for Llanrumney High School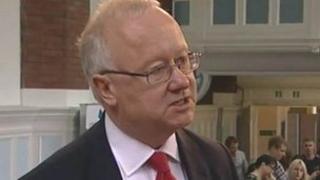 Education Minister Leighton Andrews is considering forcing Cardiff council to close a secondary school a year earlier than originally planned.
Mr Andrews wants Llanrumney High School to close this summer instead of August 2014.
Pupils are due to leave the school in September anyway and move to neighbouring Rumney High School.
Cardiff council plans to establish a new school for the east of the city next year.
However, Mr Andrews said Cardiff council's timetable to officially close Llanrumney in August 2014 was "too drawn out".
He said: "I will shortly be commencing a four week consultation period with a view to directing the authority to close Llanrumney High School effective of August 2013, allowing pupils to be fully integrated into Rumney High School from September."
The number of pupils at the school is falling and the standard of education it offers is "unsatisfactory", he said.
Llanrumney was placed in special measures by inspectors in October last year.
The move by Mr Andrews follows concern about education standards in many parts of Wales.
This week schools inspectorate Estyn said education services in Merthyr Tydfil and Monmouthshire should be taken into special measures.
They are latest councils deemed to be failing pupils, following Anglesey, Blaenau Gwent and Pembrokeshire.
A council spokesperson said: "Cardiff council has today received notification that the Welsh Minister for Education Leighton Andrews has used his powers to begin a consultation regarding the closure of Llanrumney High School.
"We have already been in discussion with the minister's office and will of course engage fully in his consultation which is due to commence on 27 February."