Islamic house sign ban in Newport reversed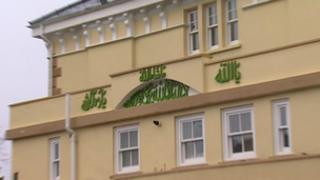 A Newport man who was banned by local planning officers from having an Islamic sign outside his home has won his appeal against the local authority.
Newport council had said that the sign was an "obtrusive advert" and ordered it to be taken down.
But Mahmood Ali argued that the sign - which is bright green plastic and two metres long - was a blessing on his home.
The planning inspectorate has now decided to grant the sign.
The home - located in a conservation area - had Arabic symbols on a wall which translate as "with the will/grace of God, may God grant him peace, there is no God but Allah and Mohammed is his messenger".
Following the hearing held on Tuesday, the planning inspectorate has decided to grant the sign subject to conditions.
He said he does not consider that the size of the symbols to be unacceptable given the large scale and proportions of the house.
He also said that "there is no conflict with the conservation area".
He concludes that the symbol would be unlikely to be seen from vehicles and that the main impact would be on pedestrians.
The two conditions are that the sign must not be illuminated, which Mr Ali had wanted to do originally, and it must be kept clean and tidy.
Both Newport County Council and Mr Ali are yet to comment.