Stephen Rees and Liam Ahearne abscond from HMP Leyhill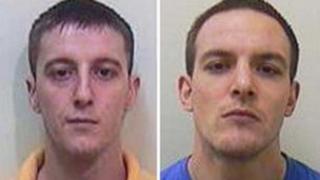 Two men with connections to south Wales and the south west of England are being sought after absconding from an open prison in South Gloucestershire.
Stephen Rees, 31, and Liam Ahearne, 24, left HMP Leyhill at about 21:00 GMT on 30 January.
They are thought to have connections with Merthyr Tydfil and the Rhymney Valley, particularly Blackwood, Markham and Bargoed, and south west England.
They are considered a "potential risk". Police should be called on 101.
Ahearne was serving an indeterminate sentence for aggravated burglary and Rees for wounding.